WEDDING SALE: Beach Wedding Ceremony Packages Starting from $750* 
Orange Beach Top Rated Local® Wedding Location
Wedding Ceremony & Luncheon Reception Package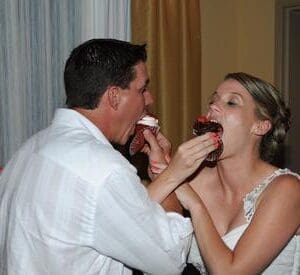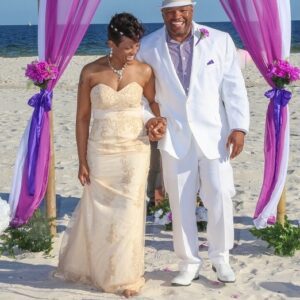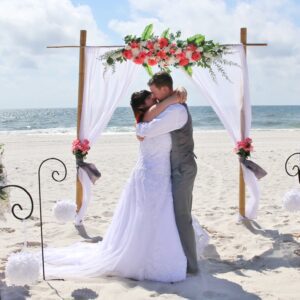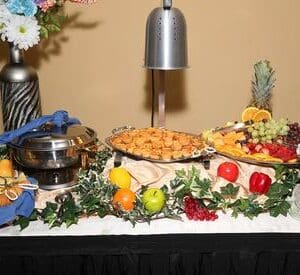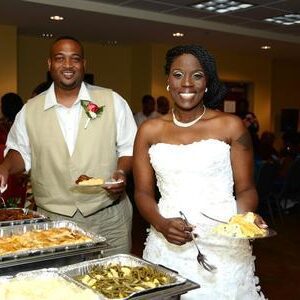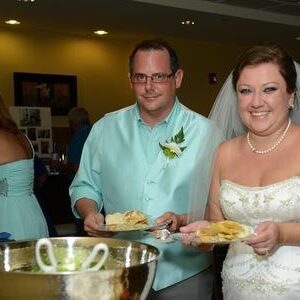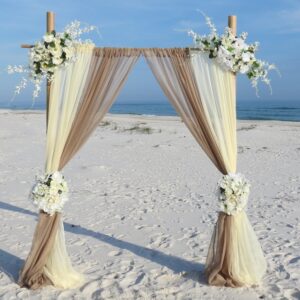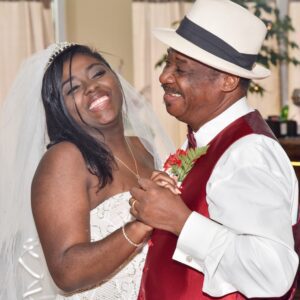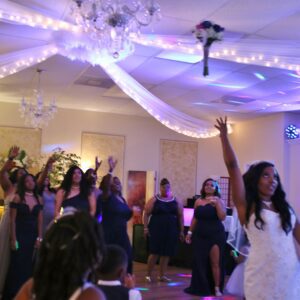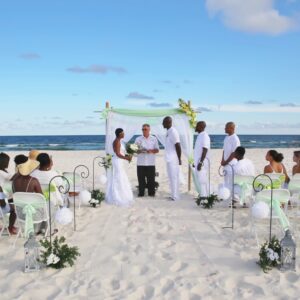 We want to make your Orange Beach wedding easy and stress-free, and our all-inclusive packages are the answer!
This packages include the essentials to have a lovely beach wedding and Luncheon reception without breaking the bank
This Special package is only Available Sunday through Friday, and it is a luncheon.
*This Package is not available on Holidays*
BEACH WEDDING CEREMONY AND LUNCHEON PACKAGE
INCLUDES:
CEREMONY ON THE BEACH
– Officiant: Non-denominational Minister
  – "Two Lives Become One" Unity Sand Ceremony:
The bride and groom each pour sand from individual bottles into one bottle to symbolize the couples unity. The bottle of sand is then a keepsake for the couple.
– 3 Pole Bamboo Arch decorated in flowy sheer fabric, also in tan/burlap
– DECORATED WITH : 3 Silk Floral Arrangements
– Aisle Way Decorated with 6 Shepherd's hooks and hanging white Kissing Balls
– Sand Ceremony Table
– Wedding Ceremony Directing
RECEPTION :
– 2 Hours long
–  Orange Beach Wedding Reception Room complete with tables, chairs, linens

RECEPTION FOOD:
–  House Salad served with ranch or Vinaigrette dressing
– Oven Roasted Chicken
 – Garlic & Herb Smashed Potatoes

– Mixed sauteed vegetables
 – Bread Rolls & Butter
WEDDING CAKE
– 2 Tier, round wedding cake with white icing, for weddings of 50 people or less.
– Three-tiered cake for weddings of 75 – 100 people
– Fresh Flowers Cake Topper or Light Seashell Design
-After the Bride & Groom's cake cutting pictures, We cut and Serve the cake
BEVERAGES AND OTHERS
– 1 Buffet attendant
– Non-alcoholic Wedding punch OR Sweet Iced Tea
– Tablecloths for buffet tables, guest tables, cake table and sign in table
– Simple and Lovely Centerpieces for Guest Tables and Sweetheart Table, one per table
– Use of Chafing Dishes and Serving Utensils
– Deluxe Disposables: Heavy duty Napkins, clear Dinner plates, Cake Plates, and  "real like" flatware
–  Use of Complimentary Cake stand to make your cake really stand out!
– Decorated Cake table
– Decorated Buffet Table including, table skirts, props, etc.

– Cake, Punch and Food Delivery and set up and clean up/breakdown of buffet
 – Beach Ceremony Permit

 – Wedding Ceremony Set up and Breakdown
–  Includes background music OR up to 2 hrs of our Professional Sound System for DIY DJ for your Reception. Our "Pro Audio, simple as 1-2-3" Sound System rental with microphone for speeches and toasts. 1) We set up all the equipment, 2) you create a playlist from now until your wedding date on your ipod or similar… even a laptop computer works just fine, 3) bring your own playlist of pre-programmed music on an I-pod, laptop or phone similar device that has bluetooth capabilities and play your own music. You will be able to control the music using your own device.
CEREMONY & LUNCHEON WEDDING PACKAGE
For 25 people —.  $4,750.00
For 35 people —. $5,895.00
For 50 people —. $6,965.00
MORE THAN 50? GIVES US A CALL!!****
Dates are selling out fast – Book your Wedding package today!
**This package is subject to change and availability. Not Available on Saturdays, other restrictions may apply. Package prices may not be valid during national holidays and/or special local events.
Prices do not include sales Tax. Your end price will be, Plus 10% Tax to calculate your final total. Gratuity is not included in the package, this will be approx. 15% of your total. Prices are subject to change without notice. Photography not included on this package
Photography not included on this package
NOTE: With this package your may choose to start your Beach Ceremony any time before 11 am, then your Luncheon Reception time must start no later than 12:30 pm